Having a healthy family is dream of every mom. But have you considered that healthy comes through consistent nurture, healthy lifestyle and food intake? Breakfast is one such meal that sets the day for your family and determines whether they will be going through the day productively or drag it out. It is the most important meal vouched by nutritionists as well as doctors. So, why not get it right by feeding your family a healthy breakfast every morning? Here are seven healthy breakfast recipes enjoyed and shared by families across the globe. The best part is they're easy to prepare too!
Enjoy preparing them and delighting your family members with these healthy foods.
1.Nordic Porridge Breakfast
Add an element of Nordic culture to your breakfast which isn't just healthy, but delicious too, which is a major attraction for kids. You can change the toppings according to your liking thus making it more diverse.
How to Make it
Add one cup of barley flakes into two cups of whole milk and boil over medium heat.

Simmer the heat, cover the pot, and let it cook and allow the flakes to get fluffy when they absorb the milk.

Add 2 tablespoons of brown sugar and half a teaspoon salt and stir.

For the toppings, add 1 pint of crushed raspberries stirred with one tablespoon of brown sugar in a bowl, 4 teaspoons of chia seeds, finely cut apple slices and sprinkle some cinnamon to finish.

Photo: pexels.com
2. Avocado Toast
This reverse engineered recipe brings the best out of the breakfast. It is fresh, healthy, tasty and quite effective for moms looking to lose some weight.
How to Make it
Process white bread into a food processor to get fine breadcrumbs. About one and a half cup.

Heat a clove of garlic on a pan with 3 tablespoons of oil and discard the garlic when it turns brown and fragrant.

Add the breadcrumbs to the oil and cook them. Toss them frequently and stop when they turn crispy and golden brown.

Fry some eggs or sunny side ups according to your liking.

Take an avocado, cut it in half and gently brush all the sides with lemon juice and season some salt.

Dread the avocado in breadcrumbs so they stick to it and sprinkle some in the cavity too.

Serve the breadcrumbs dipped avocado with fried eggs.

3. Eggs and Greens
You can't go wrong with the classics. Eggs and greens have been the most popular healthy breakfast recipe out there for a very long time and for a reason. The spinach helps in losing weight and reducing cravings and the mushrooms help in cleansing the digestive tract. This makes it a suitable meal for the whole family, especially moms and kids.
How to Make it
Add one cup mushrooms and two cups spinach to half a tablespoon olive oil. Sauté them on a skillet.

Remove the vegetables and add half a tablespoon olive oil more on the skillet and make a sunny side up.

Serve the sunny side up with vegetables.

Sprinkle some Sriracha sauce if you want to bring some spice to your meal.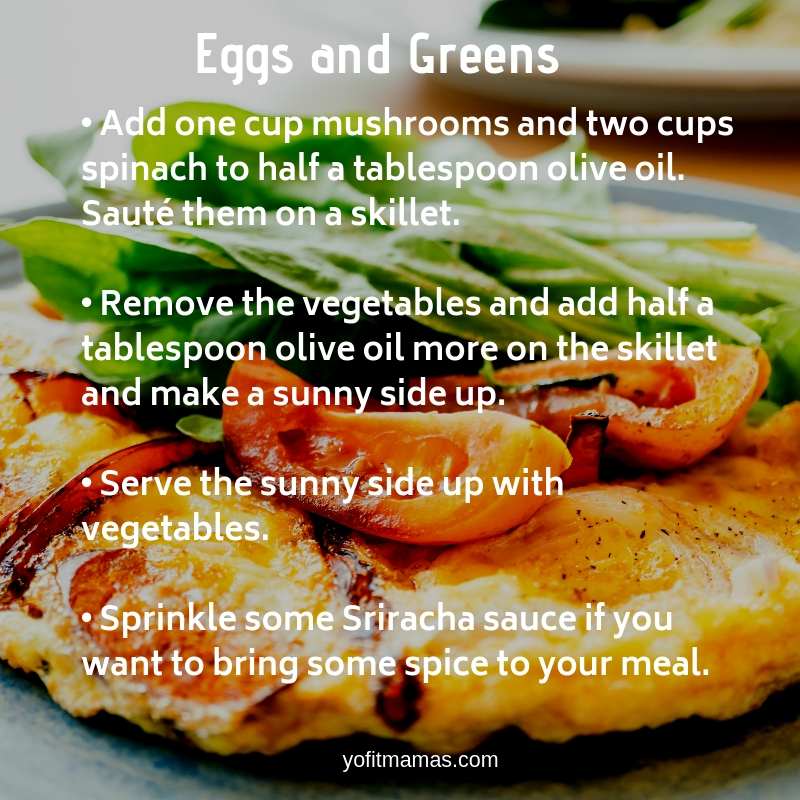 Photo: pexels.com

4. Scrambled Eggsadilla
This is quite a reliable healthy breakfast recipe for moms who are working out or who have just begun working out. It helps you maintain muscle mass while you maximize your weight loss with 20-grams of proteins.
How to Make it
Scramble an egg with two tablespoons of red chopped onions and green pepper.

Take a whole wheat 8-inch tortilla and heat it on a pan.

Put the scrambled eggs on the tortilla with 1-oz shredded cheese and salsa and roll it.

5. Veggie Frittata
A star in healthy breakfasts, a veggie frittata is a wholesome dish. It is one of the healthiest and tastier lifestyle choices out there for moms and kids alike. You can even store it and eat later, hot or cold according to your liking.
How to Make it
Heat 2 tablespoons of virgin olive oil in a non-stick oven safe skillet at medium heat.

Add 1 diced red bell pepper, 1 green bell pepper, half cup chopped red onion, and cook for 6-7 minutes.

Add 2 cups baby spinach, ¼ cup chopped sun-dried tomatoes and a sliced clove of garlic and stir fry for about one minute until the spinach is just dwindling.

Add 10 eggs, very few grinds of black pepper and a teaspoon of salt and gently stir so the vegetables are distributed.

Bake in the oven at 375 F for 13-15 minutes until the eggs are set.

Take it out and let it stand for a couple minutes, then slice and serve.

6. Tofu Scramble
This is probably the best dish to get your kids to eat veggies. It's innovative, tasty, vibrant and healthy. Moreover, it's a soy food which has good amounts of protein for your kids' growth. It'll drop some of those pounds and maintain a low-calorie diet, in your case.
How to Make it
Heat 1 tablespoon olive oil in a sauté pan.

Add 4oz crumbled tofu, 1 cup chopped spinach, ½ cup chopped baby mushrooms and ½ chopped red bell pepper.

Cook for 6-7 minutes. Stir often.

Serve on whole wheat sandwich thins.

Top with some cheese and oregano.

7. Oatmeal, Pecans and Berries
The fiber in the oatmeal helps fill your hunger for a long time, all the while being low in calories. Pecans and berries bring a freshness to the dish, making it easier to serve it to kids and keeping them healthy.
How to Make it
Add instant oatmeal to milk and prepare according to the box instructions.

Add 2 tablespoons chopped pecans, half a cup of raspberries and half a cup of blueberries to the prepared oatmeal.

Mix properly.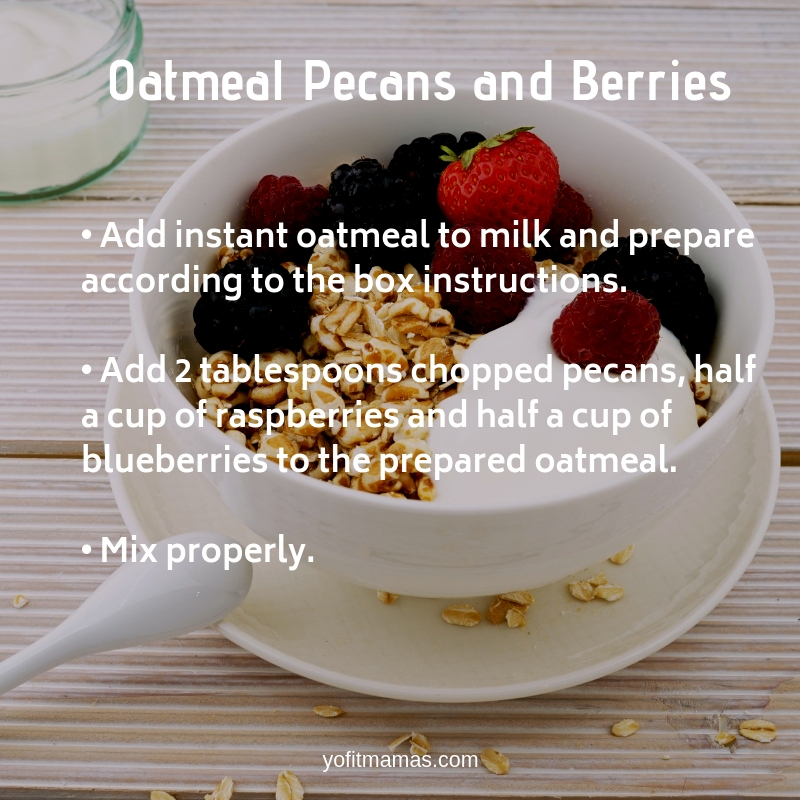 Photo: pexels.com